A camping with mobile homes on Lake Garda
village / services
Are you looking for
mobile homes on Lake Garda
? Maybe in a four-star camping? In a holiday village suitable for the whole family? And not to forget, the excellent services, of course? Then Camping Baia Verde in Manerba sul Garda is just what is right for you. Let's look specifically at the proposed tourist offer.  
The mobile homes on Lake Garda of camping Baia Verde

- Green Suite

Mobile home of 32 square meters, can accommodate up to 5 persons, consisting of two bedrooms (one double, one single with three beds), two private complete bathrooms, living room with kitchenette, sofa, table and chairs. Equipped outdoor veranda and parking space.
- Suite Deluxe

Mobile home of approximately 32 square meters, ideal for families, it can accommodate up to 5 persons distributed in two bedrooms, one with double bed and one with three separate beds. There are two bathrooms, a fully equipped kitchen, living room with sofa, equipped outdoor veranda and parking space.
- Family Deluxe

Mobile  home Family Deluxe can accommodate up to 6 persons, for a total area of 32sqm. It has three bedrooms (one with double bed and two with two separate beds each), a full equipped bathroom, elegant living room and a fully equipped kitchen. The accomodation is completed by a parking space and an outdoor veranda with table, chairs and two deckchairs.
- Charme

Pretty 24sqm mobile home, it can accommodate up to 5 persons in the two bedrooms, one double and one with three single beds. It has two bathrooms, living room with kitchenette, equipped outdoor veranda and parking space.
- Elite

Measuring 30sqm this mobile home on Lake Garda, Elite, is ideal for large families (up to 6 persons). There are three bedrooms, two bathrooms, a living room with kitchenette and sofa, large outdoor terrace and car park.
- Giada

The largest mobile home in our campsite, 33 square meters of space that can accommodate up to 6 persons. Three bedrooms, a shower cabin with sink and one with toilet and sink, equipped kitchen, sofa in the living room and outdoor veranda, with 1 parking space.
-
Special Suite
Mobile home accessible to the disabled of 34 square meters, can accommodate up to 4 persons. It is equipped with two bedrooms and a large and complete bathroom, living room with equipped kitchen and covered outdoor veranda with access ramp. Outdoor parking space and free wifi, air conditioning service for a fee.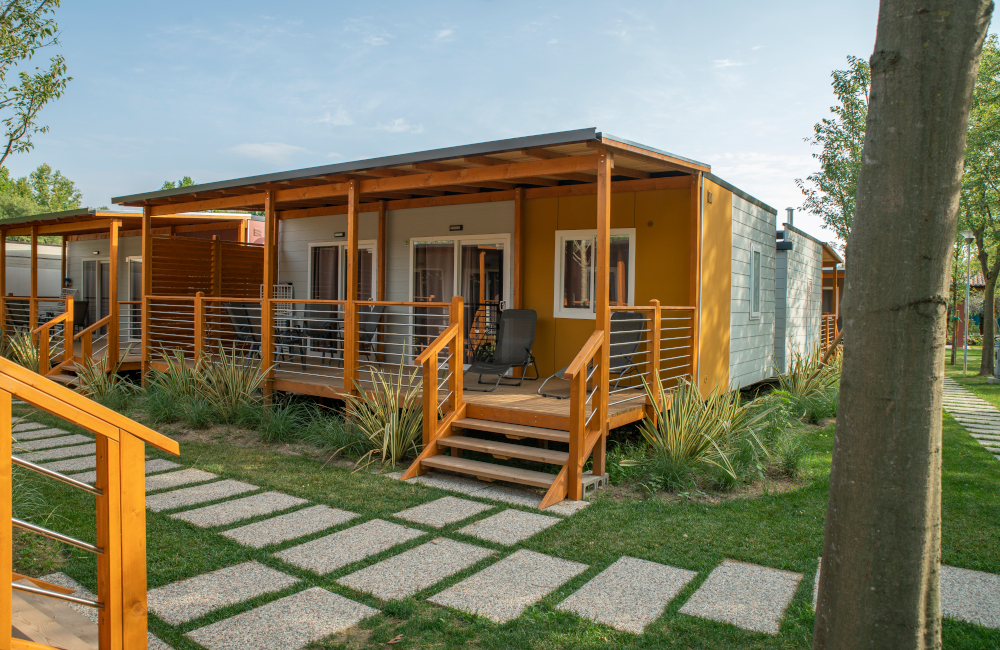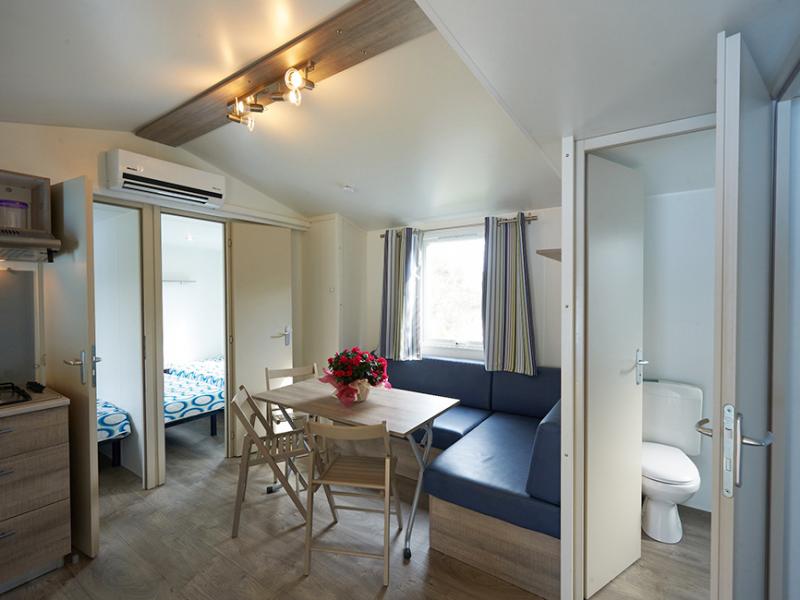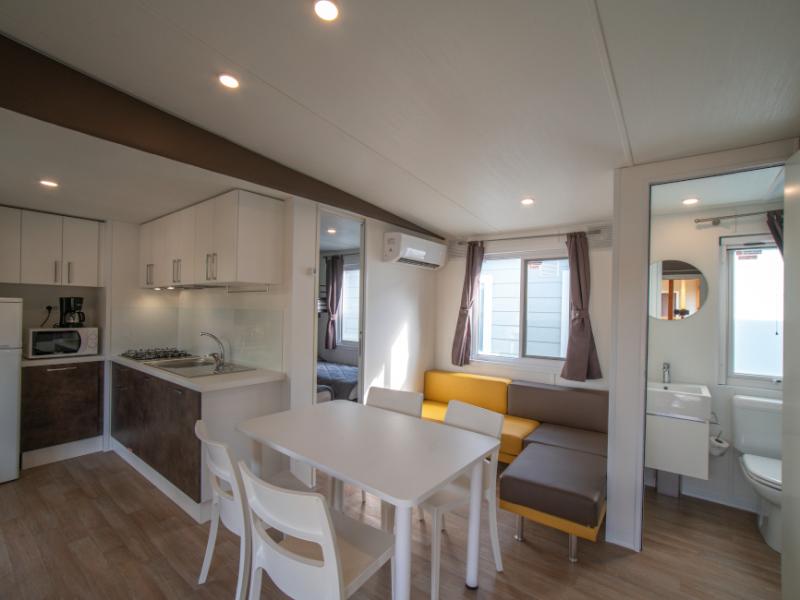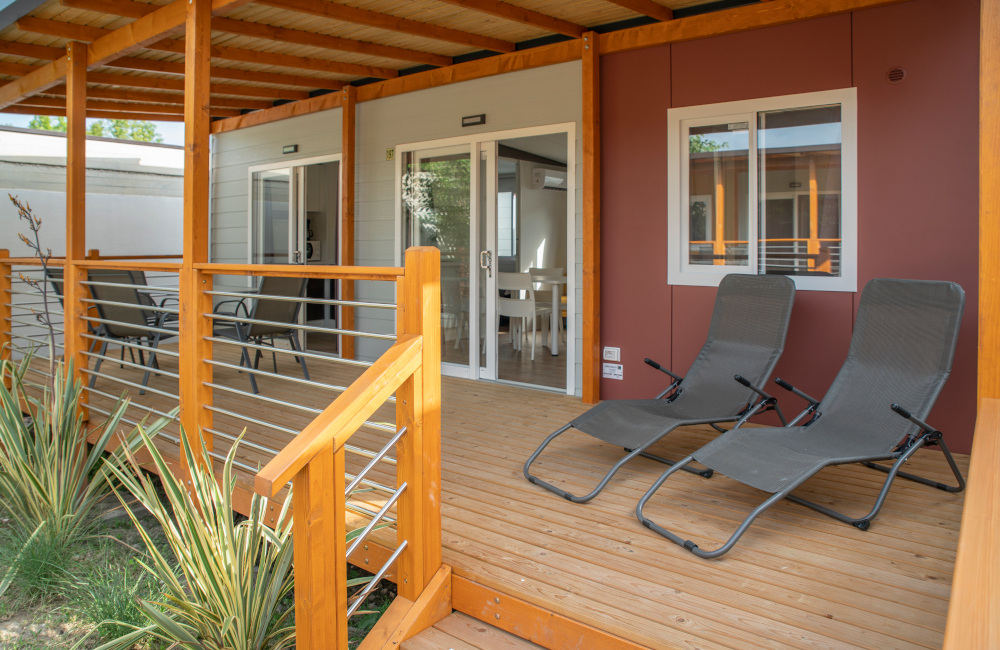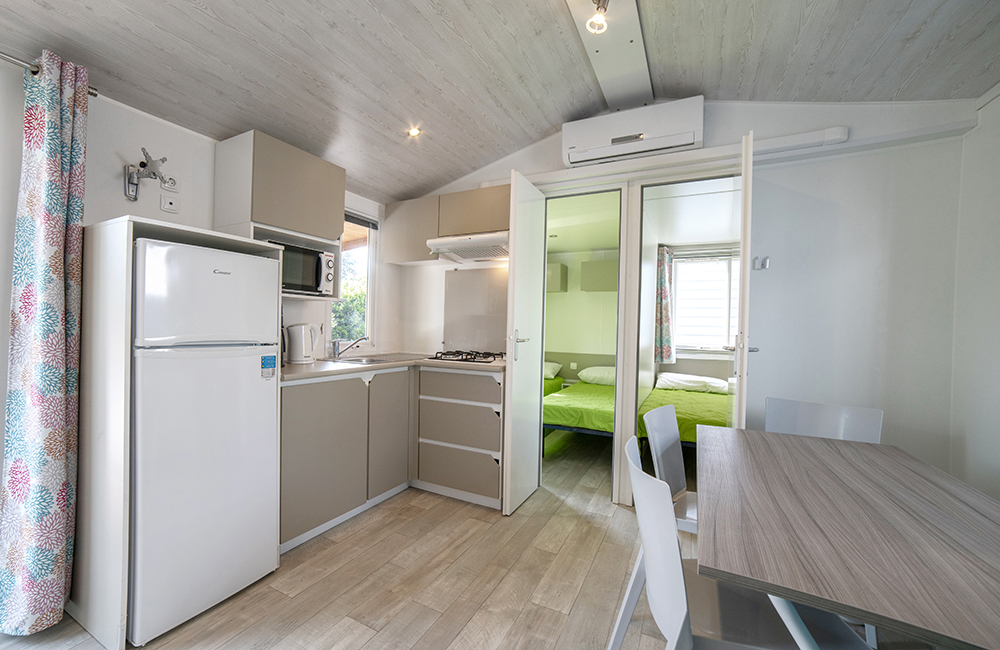 Services for mobile homes on Lake Garda

Our village is surrounded by greenery, among the rolling hills of Valtenesi (west coast of Lake Garda), directly overlooking one of the most famous beaches of Manerba. To live a holiday in a mobile home means first of all having great privacy and intimacy, organizing the day as you wish, cooking the food that your children like, with all the calm and freedom possible. At the same time, it also means sharing common spaces with other tourists, making new friends, meeting people from all over the world.
And not to forget the services! By renting one of these holiday accommodations that we have presented to you, you have the possibility to enjoy: 3 swimming pools (one for adults, one for children and one located on the roof of the main building with hydromassage and heated), and a large playground for children, huge green spaces, a restaurant, pizzeria, bar and a minimarket open all season. The animation completes the tourist offer of the Baia Verde village.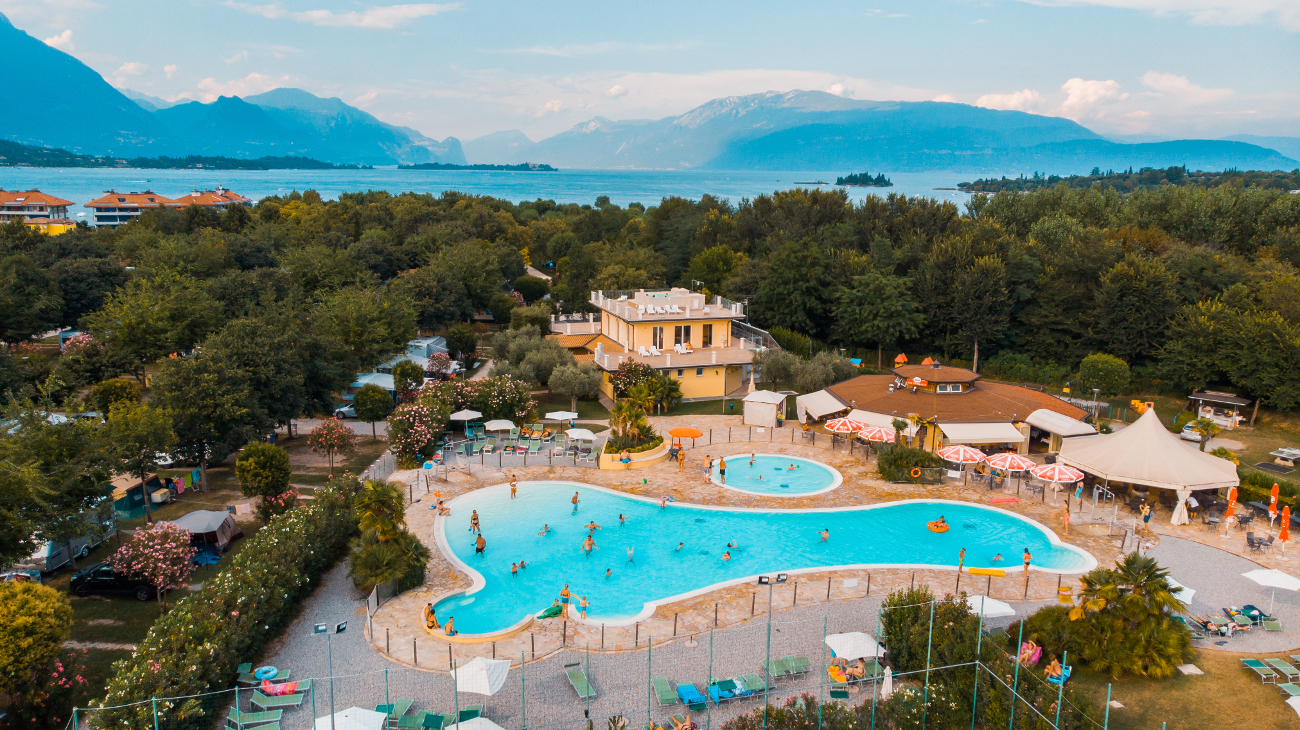 Mobile homes on Lake Garda: a green holiday
Those who choose to rent a mobile home on Lake Garda for their holiday, surely have a particular sensitivity towards nature. Our campsite is at the forefront in the protection and enhancement of this magnificent territory, offering you the chance to experience days completely immersed in nature and in clean air.
But let's see together in detail, what does
eco-camping
mean? What have we done and continue to do, day after day, for ecology?
1. Solar thermal panels and photovoltaic panels
We use solar panels for the production of sanitary hot water, water for the heated swimming pool located at the Roof-Solarium with whirlpool stations and for the bathrooms of the Superior pitches. Instead, for the production of electric energy in camping, we take advantage of the power of the sun's rays, transformed by the photovoltaic panel system.
2. Separate collection of waste
No less important is waste management in the village. We have chosen to offer our guests separate waste collection, in order to be able to recycle as much material as possible. You will find, scattered around the campsite, all the bins with which to differentiate glass / plastic / paper and dry waste.
3. Vegetation and nature
We have chosen to keep the territory as natural as possible, by not paving the streets of the village but leaving them in natural gravel, thus also favoring the absorption of rainwater. Even during the division of the ground, we preferred to plant only plants and trees typical of the territory, km0, to maintain the maximum possible balance.
4. CO2 absorption
An experienced agronomist has studied the photosynthetic power of our plants and determined that the air in the camping is healthy and clean, with a low rate of carbon dioxide thanks to the
absorption by the common green
.
What do you think about it? Certainly, renting one of the mobile homes on Lake Garda of the Baia Verde camping means choosing a natural holiday, immersed in nature, relaxing and also positive for your lungs. Please contact us for any information.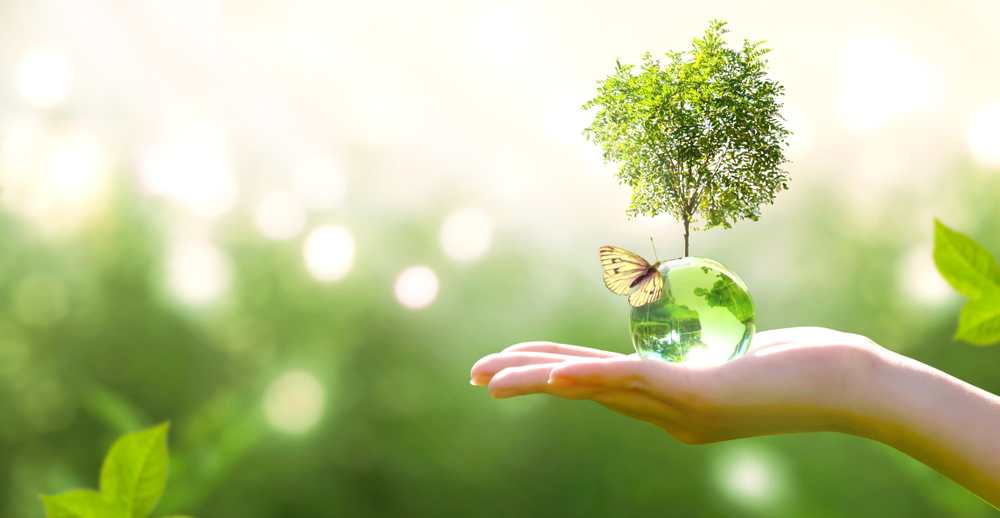 Mobile homes on Lake Garda: prices and offers
The economic aspect, as never before for this year, is absolutely to be taken into consideration. We strongly believe that everyone needs a holiday on Lake Garda to forget the worry and sadness experienced in recent months, just as we believe that children should take back what has been stolen from them: fun and freedom. Well, we have decided to offer you
unmissable offers
, exceptional discounts in order to allow everyone to leave and stay at our campsite, in a mobile home, in an apartment or on a pitch.
In the periods from 9 April to 2 July 2022 and from 10 September to 6 November 2022 we will give you 1 day of stay in our village for stays of at least 7 nights. What does this mean? Lake Garda holiday for a week, 7 nights, paying only 6 nights! This offer is valid for all mobile homes in the village and also for the apartments of our Residence Baia dei Fiori.

 
Promotional price for booking a pitch on the weekend from Friday to Saturday or Sunday evening (please contact us for more information)

Mobile homes: new for 2022
The goal of the Baia Verde camping is to improve the experience of your holidays on Lake Garda more and more. The novelties this year are 6 new Green Suite mobile homes, three new Suite Deluxe mobile homes and a Suite Deluxe accessible to the disabled. The new Green Suite mobile homes are located in an even quieter area surrounded by nature, so that you can relax during your stay in our structure. Accommodation is one of the most important elements for enjoying a peaceful holiday because it allows you to recharge your batteries and have the right privacy to spend your holidays in total relaxation. Each Green Suite is equipped with air conditioning on request, for a cool environment even on the hottest summer days.
The three new Suites Deluxe are added to accommodate even more families within our campsite, to offer an unforgettable holiday to as many guests as possible with the aim of creating a welcoming environment where everyone can feel at ease. Like any other accommodation, the Suites Deluxe are also equipped with air conditioning on request for maximum comfort for the duration of your holiday. To ensure everyone can stay at the Baia Verde camping, we have added a spacious and comfortable Suite Deluxe with disabled access.
The new mobile homes are therefore designed to offer everyone a dream stay on the splendid Lake Garda, in the company of the whole family!
Don't wait any longer, it's time to
book your holiday on Lake Garda,
a small corner of paradise on earth perfect for families, groups of friends and also for young persons!