Lake Garda: what to do and what to see during the holidays
territory / camping
This is certainly a very difficult moment, not only for Italy but for the whole world.
We have therefore chosen to bring you a wave of positivity, making you relive beautiful memories if you have been our guests in recent years, or we like to introduce you some of the excellences through suggestions and images if you have never visited Lake Garda. Strength and courage, this bad situation will soon pass, let's hold on. In the meantime, let's use our imagination and think about what we can do in a few weeks, when all this will be only a bad memory.

What to do on Lake Garda: #sport
Do you like physical activity and sport in general? Lake Garda gives you the opportunity to do lots of activities, to train and to experiment with new sports, all framed by a unique natural landscape. Because if it's nice to keep fit, it's even more enjoyable to do it outdoors, in the middle of nature, on mountain paths overlooking the lake or even in the water!
1 - cycling.
Camping Baia Verde is located within a very rich network of cycle paths in the Valtenesi, which goes towards the north and south of the lake. Many guests come to our camping with their own bicycle, ready to discover Lake Garda on two wheels. For those who cannot bring their own bikes, since last year we have activated the bike and e-bike rental service directly at our village.
2 - windsurfing.
How not to mention the sport that was born right here on Lake Garda? Windsurfing is one of the most popular sports, especially in the upper part of Lake Garda where the perfect wind blows to launch onto the table in stratospheric evolutions. There are so many schools and instructors that, at any time, allow you to learn and have fun like never before. Try it yourself!
3 - golf.
A relaxing sport but at the same time of concentration, completely immersed in the nature of the hills of Lake Garda, among green meadows and typical vegetation. On the west coast there are many golf courses, we mention Golf Bogliaco (in Toscolano Maderno, about 15 minutes from our camping), GardaGolf Country Club in Soiano and Golf Club "il Colombaro" in Salò, even closer to the
village Baia Verde
.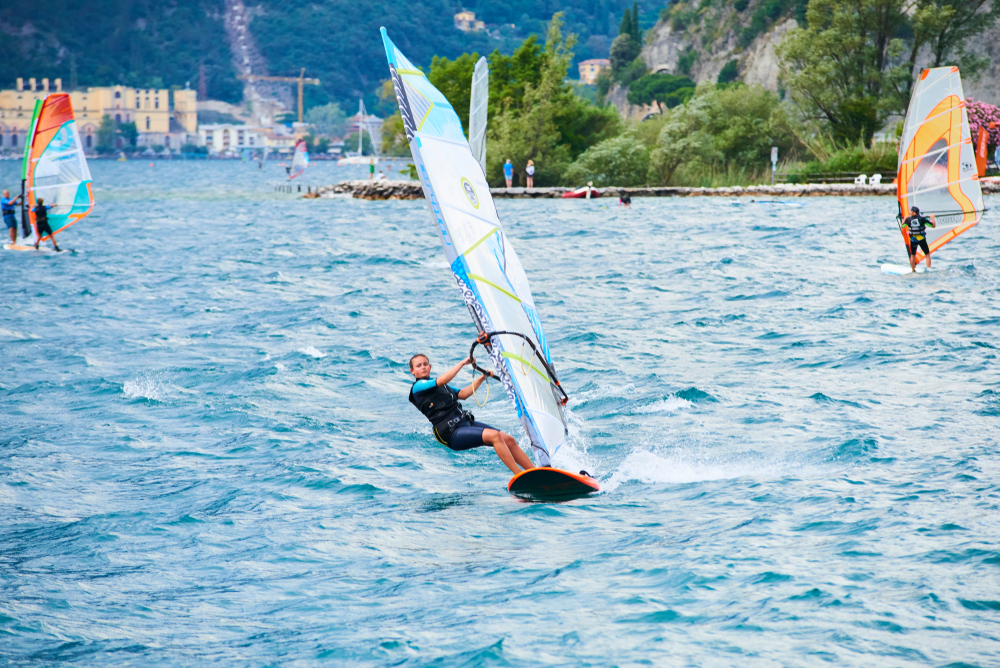 What to see on Lake Garda: #culture
If you want to know more about the history and culture of this corner of earthly paradise, we recommend the most suggestive places.
1 - the Vittoriale degli Italiani.
Located in Gardone Riviera, it was the home of Gabriele d'Annunzio, now it is an open-air museum. It is possible to take guided tours and participate in events, concerts and breathtaking shows in the beautiful outdoor amphitheater with a panoramic view of the lake.
2 - Mu.Sa in Salò.
A museum recently built in the spaces of the Church of Santa Giustina of 1587 in Salò, it houses interesting and unique art and scientific collections, often signed by world-renowned artists. It is open all year.
3 - Grotte di Catullo.
An ancient archaeological site and an imposing example of a Roman villa best preserved in northern Italy, all to be visited together with the museum that houses numerous finds from the excavations.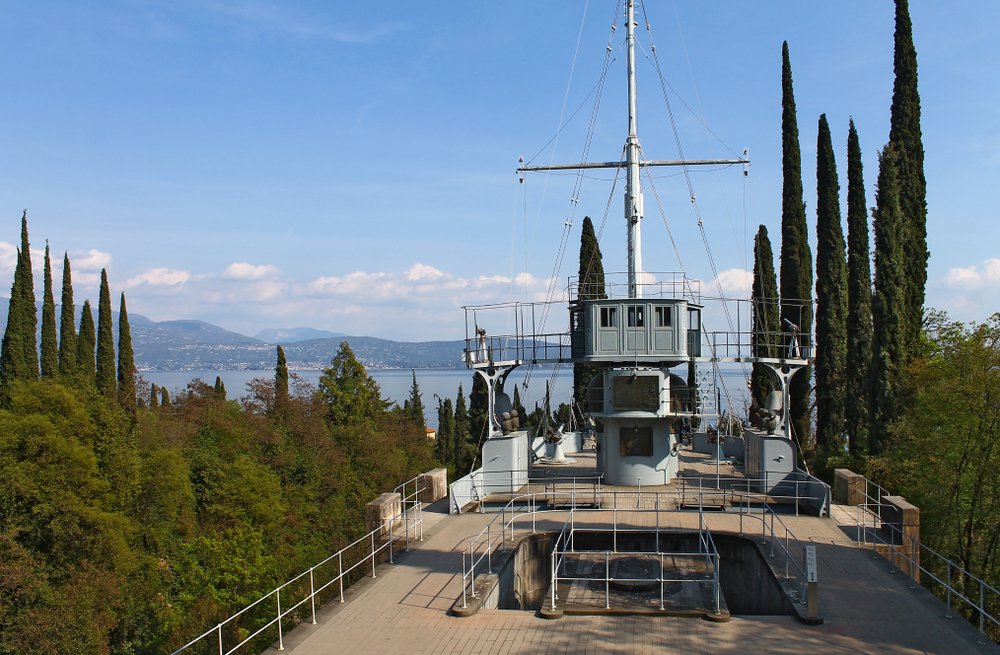 What to eat on Lake Garda: #enogastronomia
Food and wine are both excellences of the Garda Lake area. Your taste buds will be pleasantly surprised. What do you absolutely have to taste during your holiday on Lake Garda?
1 – olive oil.
The Garda DOP oil is known all over the world for its organoleptic properties, for its naturally balanced flavor and for its light and fresh aroma, with a typical almond aftertaste;
2 – cheese.
The dairy tradition is really strong in the valleys around our large Garda Lake. Also in this case, the natural setting offers the possibility to grazing animals to live in the green, eating mountain grass and breathing clean air, the result? An exceptional milk and, consequently, delicious cheeses;
3 – wines.
There are many vineyards that draw the landscape of the hills around the Garda Lake. Many different grapes give life to very high quality wines, each with its specific characteristics, also known all over the world.
4 – fish.
We can't forget to talk about lake fish right here! Traditional fishing is kept alive by very few professionals who supply local shops and restaurants. A previously decimated fish heritage, now constantly increasing thanks to interventions aimed at safeguarding our lake fish.
5 – capers.
Typical product of the western coast of the lake, of the Parco Alto Garda Bresciano, the caper grows spontaneously on thorny and wild bushes, especially among the holes of ancient dry stone walls.