A tourist village on Lake Garda for children
village / services
Organizing a holiday with children can be a difficult undertaking, but you don't have to worry because camping Baia Verde has thought of everything. The magic word to spend an unforgettable holiday is FUN!
If you want to keep boredom away and entertain your whole family, the tourist village on Lake Garda for children is the right choice for you.
Inside the village
The establishment organizes various activities throughout the day to entertain its guests, especially the little ones. You will find lots of entertainment and numerous tournaments to take part in in the area of the multi-purpose fields for soccer and volleyball and in the swimming pool area. Well yes, there are two swimming pools, one for children with a safe depth and a larger one with hydromassage and geyser, they represent the beating heart of our tourist village, everyone loves them. And speaking of water, we cannot forget to remind you that Baia Verde is located directly overlooking the La Romantica beach, large and free, suitable for swimming, perfect for fun dives and relaxing tans.
There is no shortage of playgrounds inside the campsite, with slides, swings and other structures for the little ones, we have placed them in several points to ensure comfort for every family.
Outside the campsite
Lake Garda is renowned for the many water sports that can be done and for the beautiful mountain routes from which you can observe the panorama, which is always suggestive. There are different lengths and difficulties, some perfect for the whole family, even with small children.
There is no shortage of museums to spend an afternoon discovering art and nature, as well as adventure parks, amusement parks (for which we will give you more in-depth advice at the end of this article), botanical gardens, characteristic markets, itineraries on the lake offered by Navigarda with boats and much more.
In short, there are so many things you can do once you arrive at the Baia Verde tourist village on Lake Garda, perfect for children. The 2023 season has already begun, we've been open since 8 April 2023... so don't waste any more time and book your holidays on Lake Garda.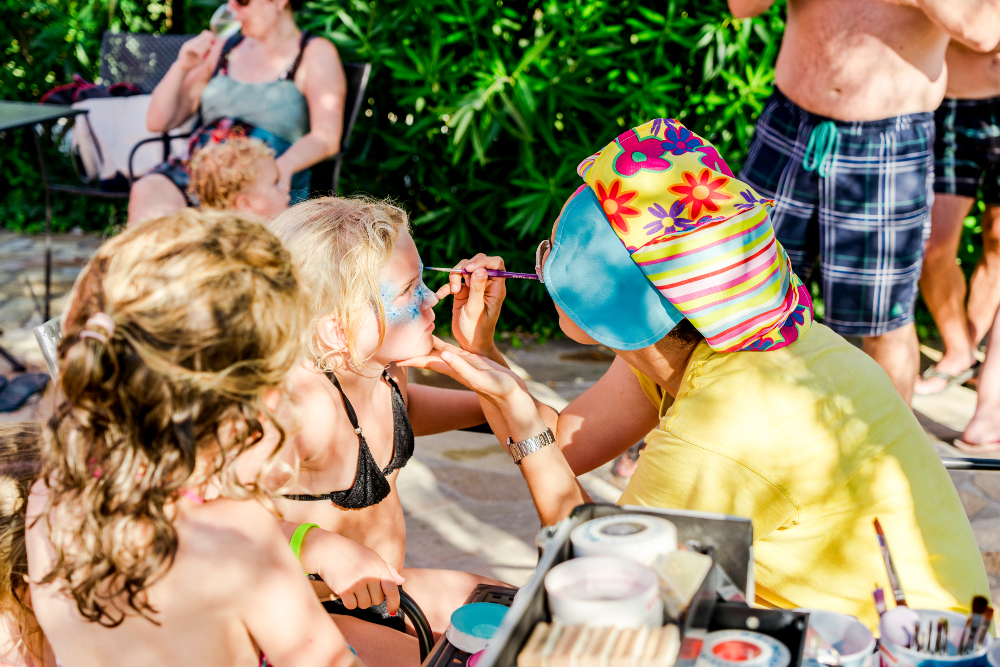 The ideal holiday for your children

The tourist village on Lake Garda Baia Verde for example, has invested time and resources to try to offer a family friendly holiday, that can really please everyone. And we know that this is a great challenge: to offer something funny for the little ones, something adventurous for the kids, something "nocturnal" for the young and something decidedly relaxing for the older ones. With the experience we have accumulated over the years we can safely say that at our tourist village on Lake Garda Baia Verde all your wishes will be fulfilled.

Services for children: large playground for socializing and making friends, large swimming pool with safe area and geyser, professional animation during the day.

Services for young people: table football, ping-pong, TV room, games room, multi-purpose sand court for soccer and beach volley, indication of evening and night events nearby, free internet access.
Services for adults: large swimming pool with hydromassage stations, swimming pool on the roof,  large green areas for walking and relaxing, direct access to the beach, mini-market open all season, restaurant and pizzeria, free internet access.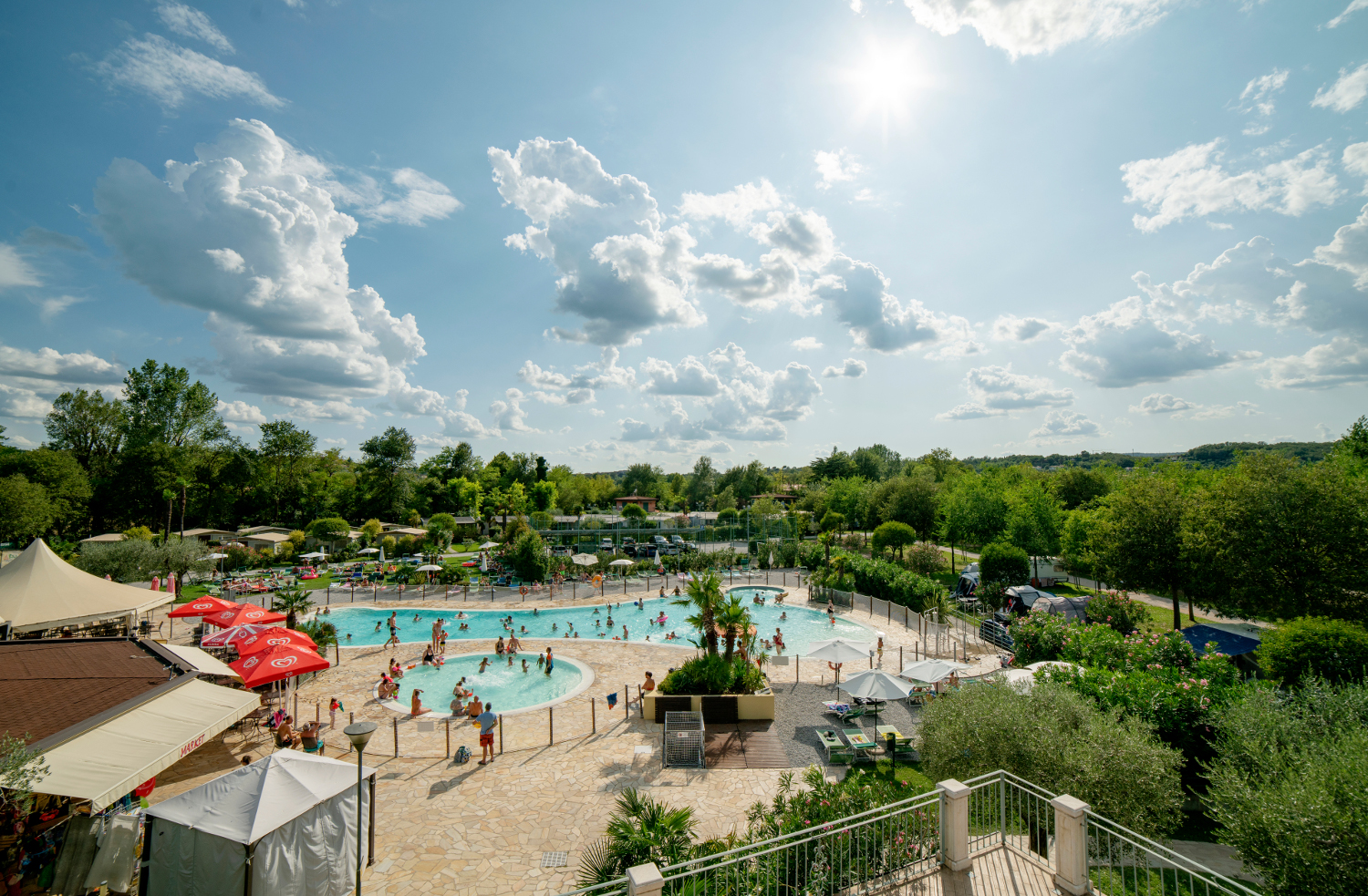 A tourist village on Lake Garda surrounded by nature

The territory around us, dominated by nature, and the green present in our village, are the "plus" of the structure itself. Located in a beautiful area halfway between the hills and the lake, Baia Verde allows you to spend a holiday immersed in nature, in contact with the typical vegetation and native plantations. In this regard we like to remind you of the great news of last year, which has been improved and optimized for the 2019 season, the extraordinary
GREEN AREA
, with direct outlet on the beach, in total peace and tranquility.
And speaking of family-friendly holidays, these green areas, these large shaded parks are perfect for your children, who can play with in great freedom and security. As you surely know, the space and the fact of being able to live at the same time various settings (beach, lawn and "forest") will only increase their imagination.  
Perfect facilities for large families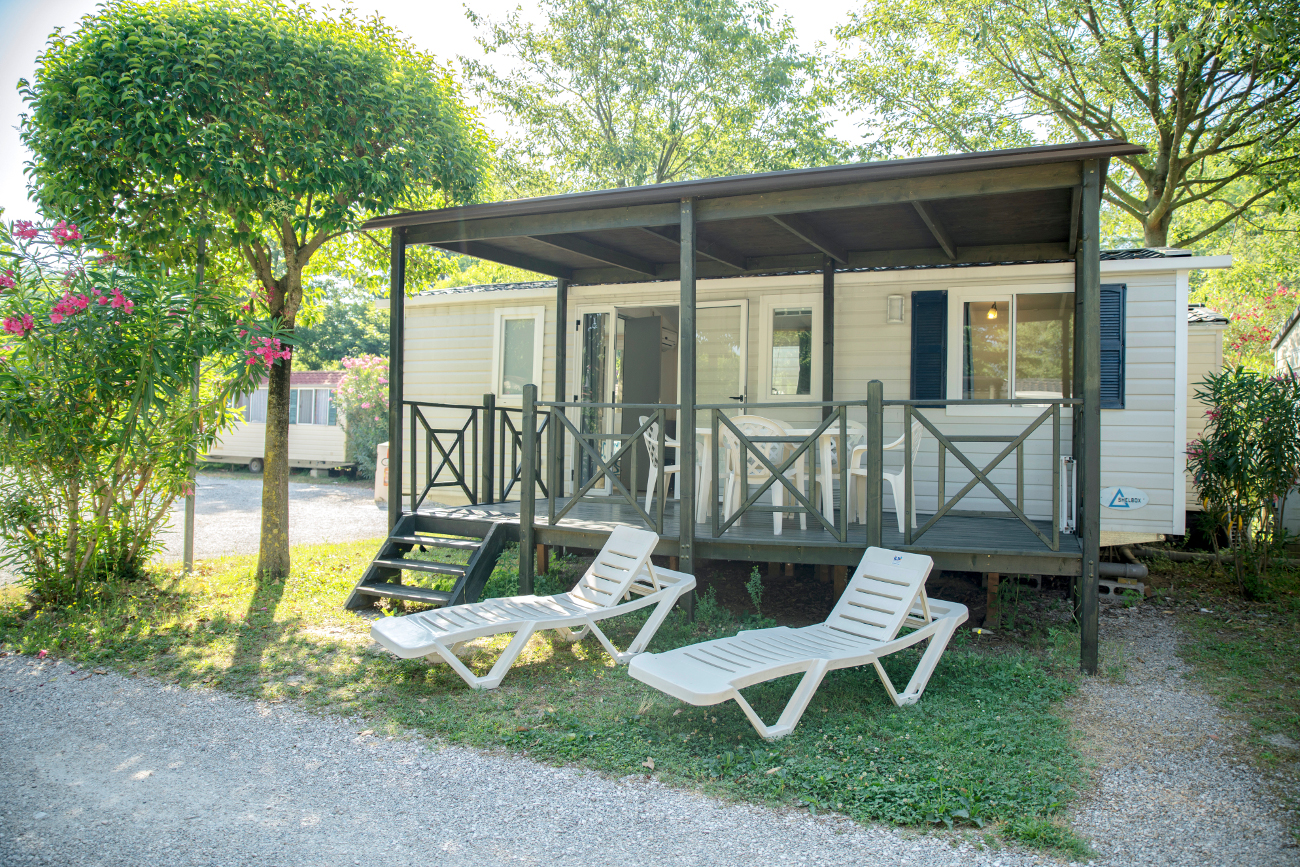 Over the years, we have enriched our
village on Lake Garda
with increasingly spacious, comfortable and fully equipped facilities to meet the needs of large families.
We have therefore installed large and comfortable mobile homes, which can accommodate up to 6 people, giving each one the right space, always guaranteeing privacy and intimacy. The models
Family Deluxe
,
Deluxe Suite
and
Elite
are the largest in terms of surface area, you can compare the features to choose the one that best meets the demands of your family. We remind you that in the mobile home Elite you can also bring your dog (to learn more about the subject read here), to spend a truly complete holiday on Lake Garda!
We have added six new Green Suite mobile homes, three new Suite Deluxe mobile homes, a new Suite Deluxe mobile home accessible to the disabled and six new private bathrooms to be placed in the Natural Green XL pitch.
Please book early, take advantage of
current offers
!

Which holiday village is without pools?
It is very good to be positioned directly facing one of the most beautiful beaches from the west coast of Lake Garda, so only one step away from being able to dive into the fresh and sweet water of the great lake, but it is absolutely impossible to give up the fun of the pool, especially for children. And the Baia Verde village has both solutions.
Here are the three beautiful pools of our camping:
1 - the largest, 370 square meters of entertainment, with a large lagoon, hydromassage area, geyser and a maximum depth of 1.38 m.
2 - the one for children, with access ladder, animation with central water geysers and maximum depth 0.63m for maximum safety of the little ones.
3 - the Roof-Solarium, a romantic pool with heated water, eight hydro-massage stations and psychedelic lighting, positioned on the roof of the central body of the camping.
Throughout the high season the professional entertainment service is active and these pools are the reference point for games, tournaments, sports activities, group dances, water aerobics and much more. Strength and courage, the last one who dives pays for everyone a nice ice cream!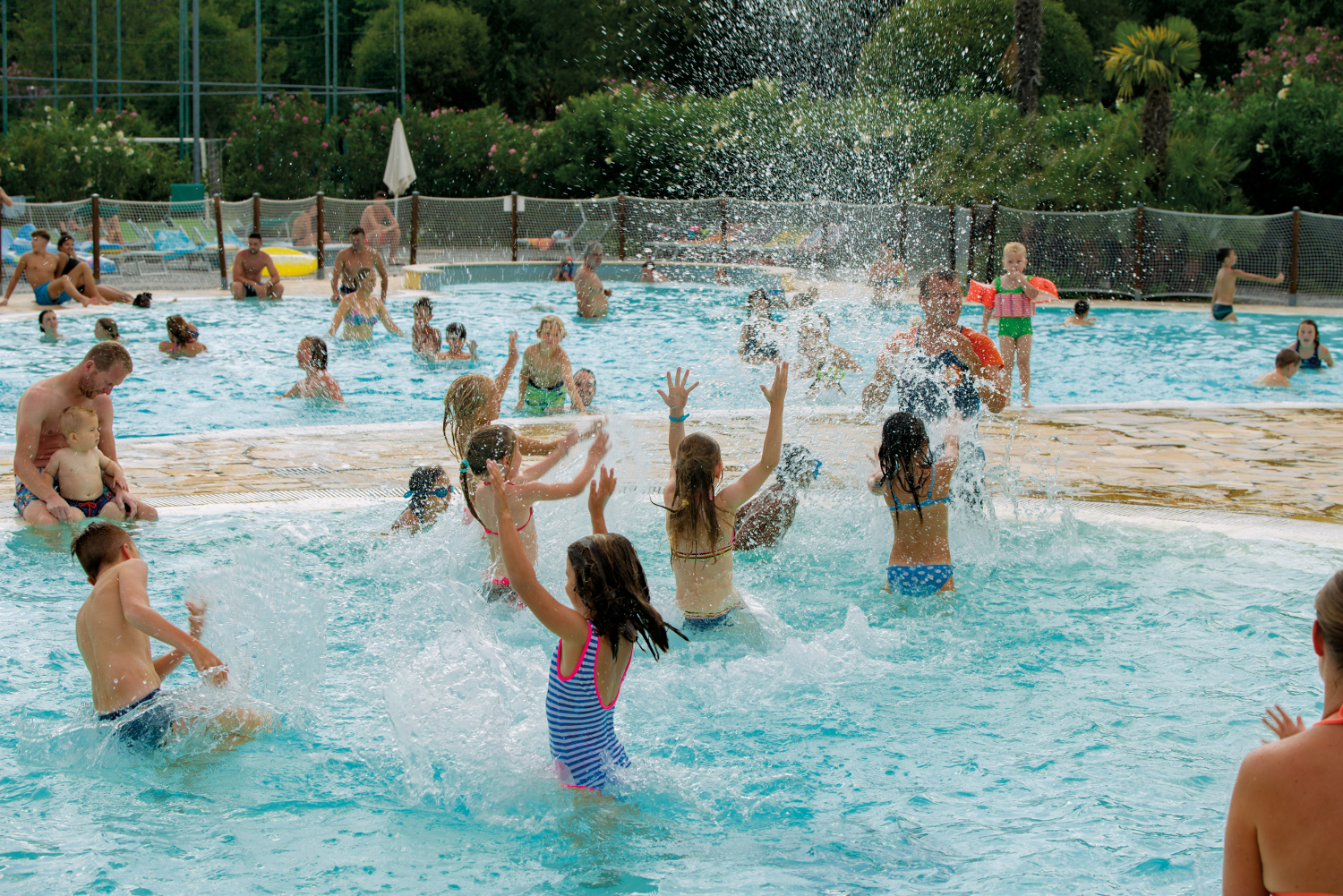 A tourist village on Lake Garda near the large amusement parks
What information do families with children ask us most before they book? Surely the presence of a swimming pool, and we have 3 of them, immediately after this question, the proximity to the most famous and large amusement parks in northern Italy. Our holiday village on Lake Garda is situated in a decidedly privileged position, that is on the west coast of Lake Garda in front of beautiful fresh water that is always clean and perfect for bathing and at the same time, about 40 minutes from the amusement parks that like children:
-
GARDALAND
, famous all over the world, the kingdom of Prezzemolo, ideal for children with new attractions dedicated to Peppa Pig, as well as to the older ones who seek pure adrenaline from games like roller coasters, the Blue Tornado or the Raptor. We advise you to reserve a whole day of your vacation for Gardaland, there are so many things to see and attractions to do, that a morning would not be enough, not even for half of all the attractions.
-
PARCO NATURA VIVA
, the safari zoo, a veritable protection center for endangered species, which this year celebrates 50 years since its opening. An exciting journey by car is expected, at the end of which the huge wildlife park will open, divided by geographical areas of the whole world. Are you ready to see lions, bears, giraffes, rhinos, monkeys and all the other animals in the world?
-
CANEVA ACQUAPARK
the water park for all ages, perfect for the summer, with adrenaline-fueled slides or relaxing routes to do with rubber dinghies or rafts, without forgetting the numerous pools and games for the little ones.
-
MOVIELAND
, an amusement park entirely dedicated to the cinema, with actors, stuntmen, pilots and special effects directly from Hollywood. Drive an off-road vehicle in the land of the dinosaurs, or get on the Hitt Super Jet, 600 horsepower for thrilling water evolutions.
Is this tourist village on Lake Garda the ideal location for families with children or not? Seeing is believing!