Camping with swimming pool by the Lake Garda
camping / services
A
camping with swimming pool on Lake Garda
offers much more possibilities for fun and entertainment. Even if we are one step away from a large bathing beach, so very close to the fresh water of the lake, a dip in the pool is always good! If we add to this relaxation in the hydro-massage station, a safe area for children, geysers and so on ... it's done.
A Plus service: the pools in the village
Today we speak precisely of this service of our camping,
swimming pools
, in the plural. If you are looking for a camping with a swimming pool on Lake Garda where you can spend your spring or summer holiday, you are definitely in the right place because Baia Verde does not have only one, but three! Inside our village you can find a pool of about 375 square meters with a wellness area, whirlpool and geyser, a safe swimming pool for children with access ladders and central animation and also a small pool on the roof, a very romantic area on the terrace, outdoors, with 8 hydromassage stations and solarium.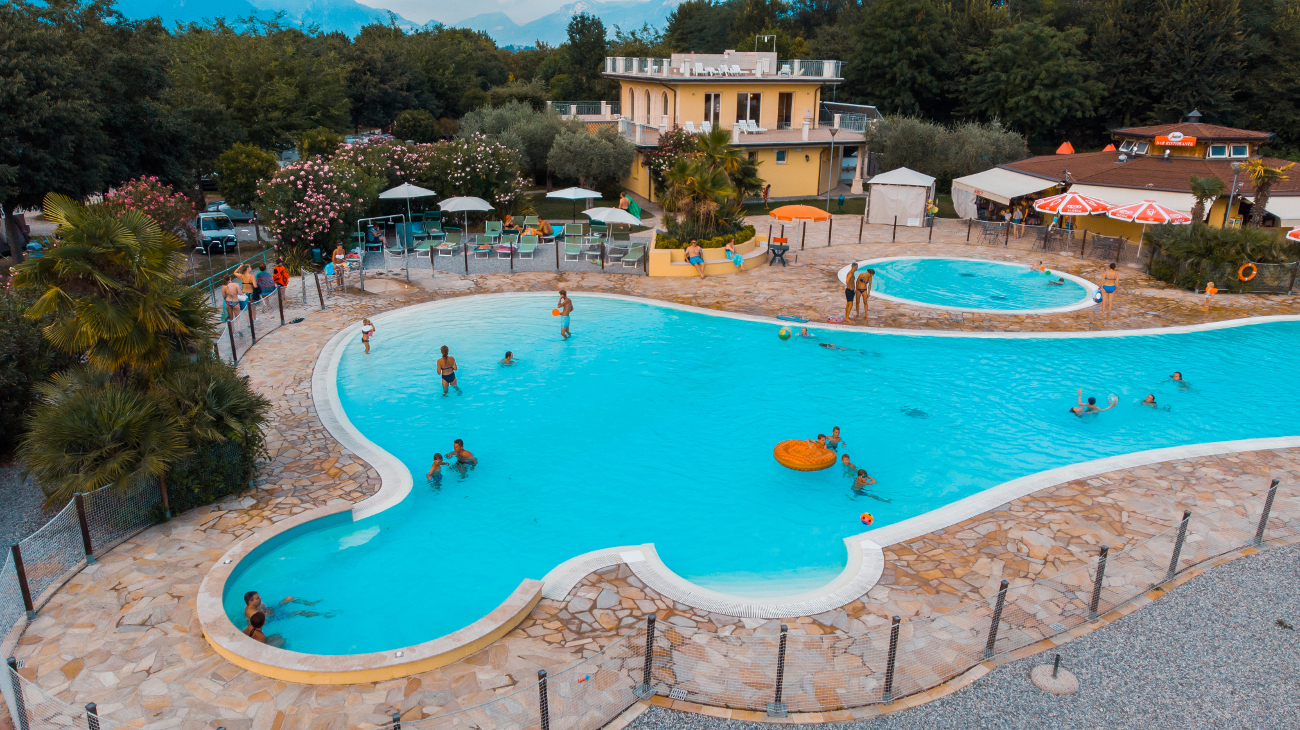 Camping with direct access to the lake
A camping with swimming pool on Lake Garda like ours will satisfy all your requests: a dive from the beach in the fresh water of the lake or sunbathing by the pool? What a dilemma! Indeed, relax in the large sunbathing area on a sunbed, to get wet from time to time when the sun starts to burn, it's not that bad. But if we told you that from last year, passing through the new green area of the campsite, you can directly reach the beach? We have direct access to the lake, without having to cross dangerous roads. So a dive in the lake or in the pool? Sunbathing by the pool or at the beach? We can satisfy you all, half and half!

Camping with swimming pool on Lake Garda: fun for children
And for the children? We have two solutions: the first is definitely the pool designed specifically for them, the one near the largest, central in the village. Here are geysers and animations to increase the fun. But also the one for adults has a first area with reduced depth, therefore also accessible to children, always under the supervision of parents.
Remember that the entertainment staff, present all day on the camping in the central months of the season, always organizes tournaments, games, dances and much more in the swimming pool area, for adults and children.
Camping on Lake Garda with swimming pool: our facilities
The Baia Verde campsite offers different types of accommodation to meet the needs of all guests. The structure is divided into three areas:
●    the area used for
camping

●    
the mobile homes

●    the
eco-residence
For tent lovers or for those traveling with campers and caravans, the pitches of Baia Verde are the best choice! Each station has shade and guarantees privacy and relaxation even during the high season. In addition, the superior and superior XL pitches are equipped with a cabin with a private bathroom complete with shower and hot water. You can thus have maximum comfort without giving up the experience of traditional camping.

Camping on Lake Garda with swimming pool: the village
The second type of accommodation within the camping on Lake Garda with swimming pool is that of the mobile homes in the village area. These solutions are perfect for families or groups of friends who want to stay immersed in nature and get away from the stress of the city, without depriving themselves of the comforts of a home. Each
mobile home
is in fact composed of separate bedrooms, with double or twin beds, a living room with fully equipped kitchen, private bathroom, a covered outdoor veranda and air conditioning on request, to stay cool even on the hottest days. The mobile homes will allow you to rest comfortably and recharge your batteries, to prepare your favorite dishes whenever you want and to relax looking at the sky covered with stars. All you have to do is prepare your suitcase, we'll take care of the rest!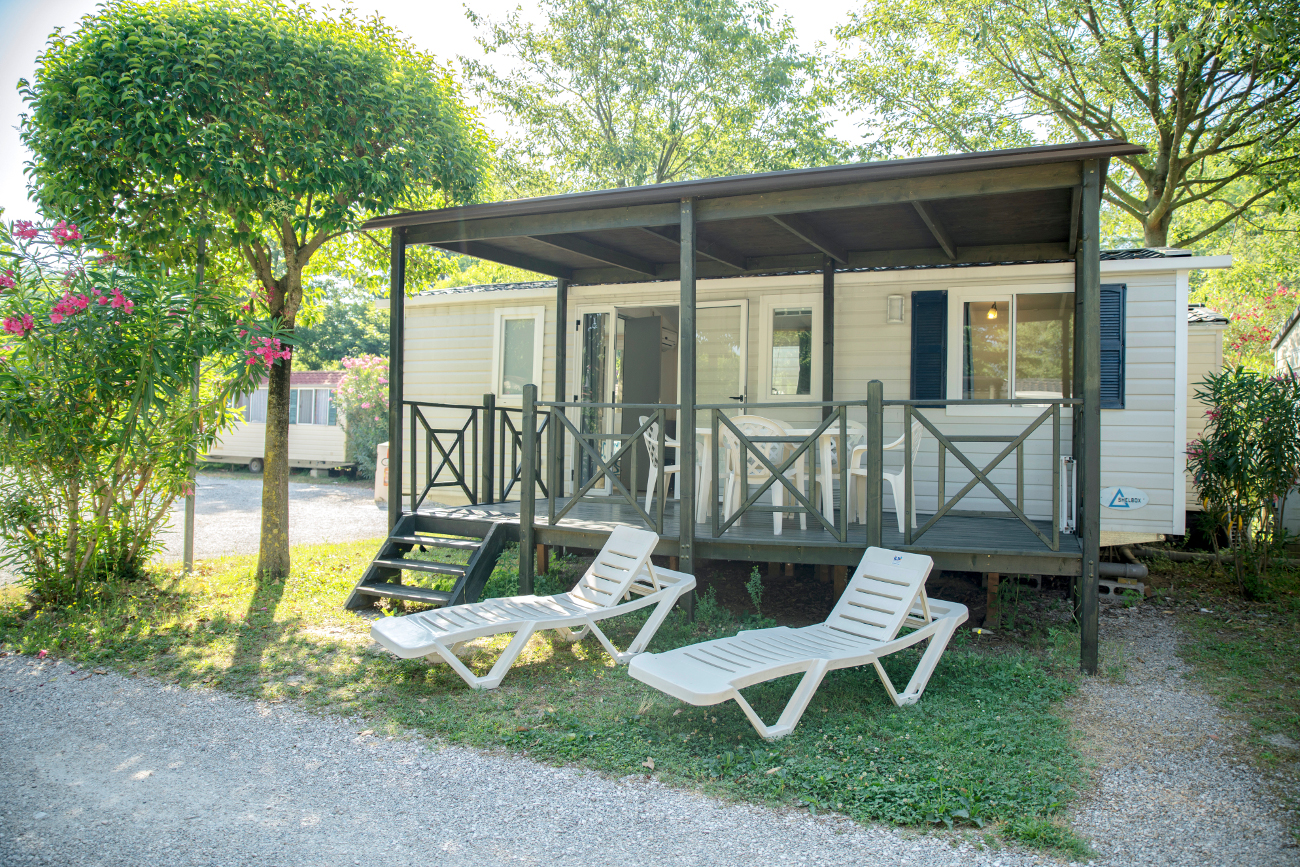 Camping on Lake Garda with swimming pool: the apartments
The Baia Verde campsite cares about the environment. Among the various accommodation options are the apartments of the
Eco-residence Baia dei Fiori
, a complex consisting of three private and ecological housing units and the Fior di sole villa. Each apartment has a low environmental impact, with thermal insulation and electricity from renewable sources for a green holiday in the name of respect for our planet. The interiors have been carefully decorated and feature an elegant design. The apartments of the camping on Lake Garda with swimming pool have private bedrooms, living room with equipped kitchen, modern bathroom complete with every comfort. The real beauty of each accommodation, however, is constituted by the outside, an area completely immersed in nature where you can sunbathe.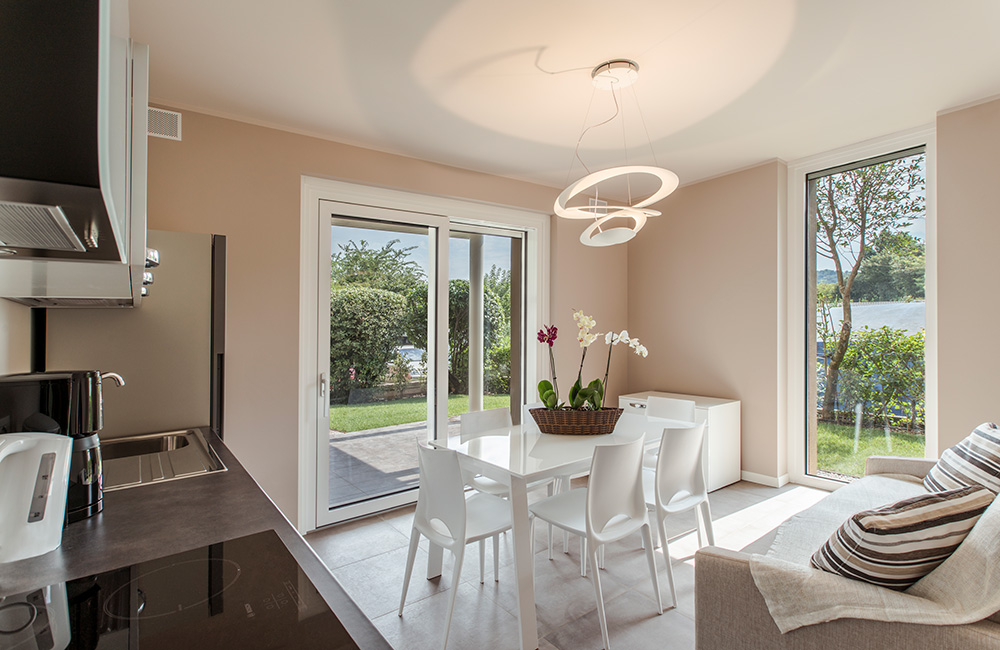 Catering service of the camping on Lake Garda with swimming pool
We have already talked about the advantages of a camping on Lake Garda with a swimming pool, but the services offered by Baia Verde do not end there! Inside the structure you will find the restaurant, the pizzeria and the bar for a carefree holiday. You can enjoy until the last ray of sunshine and then go to eat, with a menu that will please both adults and children. We are waiting for you!


Offers for your holidays on the camping with swimming pool on Lake Garda
Do you think it is too expensive to book a holiday with your family at camping Baia Verde? Do you think that this location so sought after in the summer is not within your reach. You are wrong. Browse the price catalog of our camping with swimming pool on Lake Garda after choosing the structures that might best suit you and you will make pleasant discoveries. After that, always consult the page dedicated to offers and promotions currently active, which will entitle you to further discounts, especially in this period of season.
A few examples?
●    From 08-04-2023 to 01-07-2023 and from 09-09-2023 to 04-11-2023 you will get a 10% discount on stays of at least 7 nights in a mobile home or apartment
●    From 08-04-2023 to 01-07-2023 and from 09-09-2023 to 04-11-2023
daily price in promotion for Comfort or Natural Green pitch, 2 adults and 1 dog (excluding tourist tax, not combinable with other offers) - agreement ACSI 2023 / ANWB 2023 / ADAC 2023
Follow our
Facebook page
and our company blog, stay up to date and you can spend special
holidays on a camping with swimming pool on Lake Garda
at amazing prices.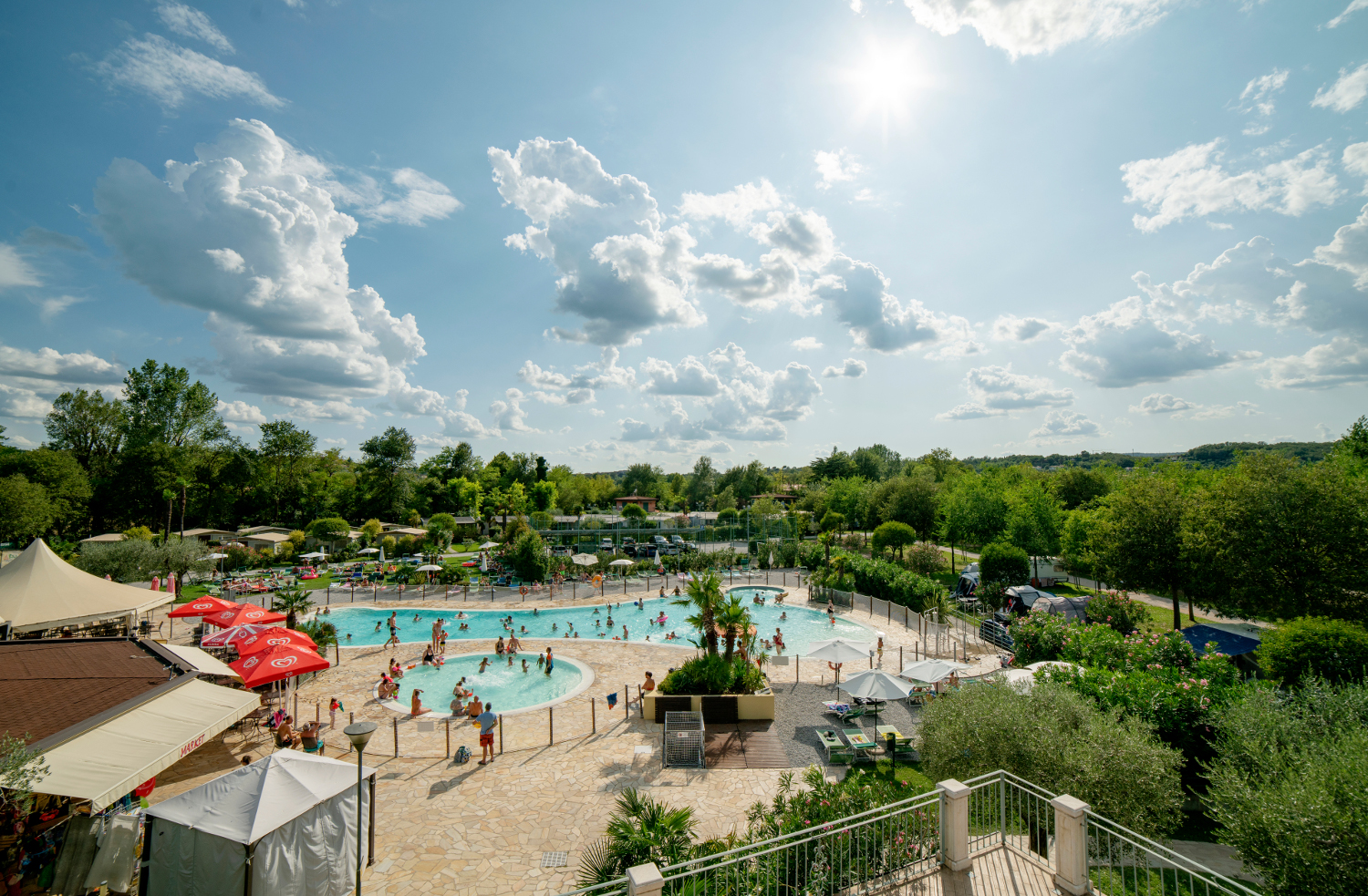 What to do during your stay on Lake Garda?
A dream holiday is also made up of fun activities that will leave you with wonderful memories. If you are looking for some ideas to organize your days in the best possible way, here are some destinations and activities you can do while staying at the Baia Verde camping on Lake Garda. Let's start with two places that you can't miss. The first is the suggestive Rocca di Manerba, an elevated archaeological site from where you can admire the lake in all its beauty. Near the fortress you will also find the archaeological museum of Valtenesi which can be a perfect activity to do if you are traveling with your children.

The second place that you cannot miss is the Island of San Biagio, also known as the Island of rabbits. It is located right in front of the coast of Manerba and today, due to last season's prolonged drought, it can also be reached on foot.

But the activities to do certainly don't end here! Lake Garda is famous for the many water and land sports that await you once you arrive at your destination. If you are beginners you can book lessons with an instructor for sailing, windsurfing, diving and much more. It is also possible to go climbing, mountain biking and paragliding. Furthermore, trekking lovers will find many paths to follow, both shorter and simpler and for professionals. In short, you really have a very wide choice of activities for the whole family to enjoy!