A 4 star camping on Lake Garda
camping
Are you planning your vacation and want everything to be perfect? It is the desire of many. After choosing the destination, the structure in which you will be guests is the most important thing. Large hotels, luxury hotels, exclusive apartments are synonymous with holidays of a certain level. But can you have the same privilege, the same conditions without spending mind-boggling amounts? And above all, is it possible to have all this and also a direct contact with nature? Yes, thanks to a
four-star campsite on Lake Garda.
The advice we want to give you for your summer break is to choose the beautiful Baia Verde camping, a tourist village located in Valtenesi. More precisely in Manerba on Lake Garda, a valley on the edge of the Garda Riviera known for the production of extraordinary wine and olive oil.
* NEWS * We are open until the 6th of November 2021, come and discover Lake Garda in autumn, surprises never fail.
A four-star campsite on Lake Garda
What does four-star camping mean? This is a very important recognition that qualifies our tourism proposal, on which we work year after year, always doing our best. We have created a tourist village where you can truly find everything you are looking for, a small happy oasis for young and old.
At Baia Verde you can spend a holiday immersed in nature, in peace and tranquility, directly overlooking Lake Garda, on one of the most beautiful and romantic beaches in the village. What more could you ask for?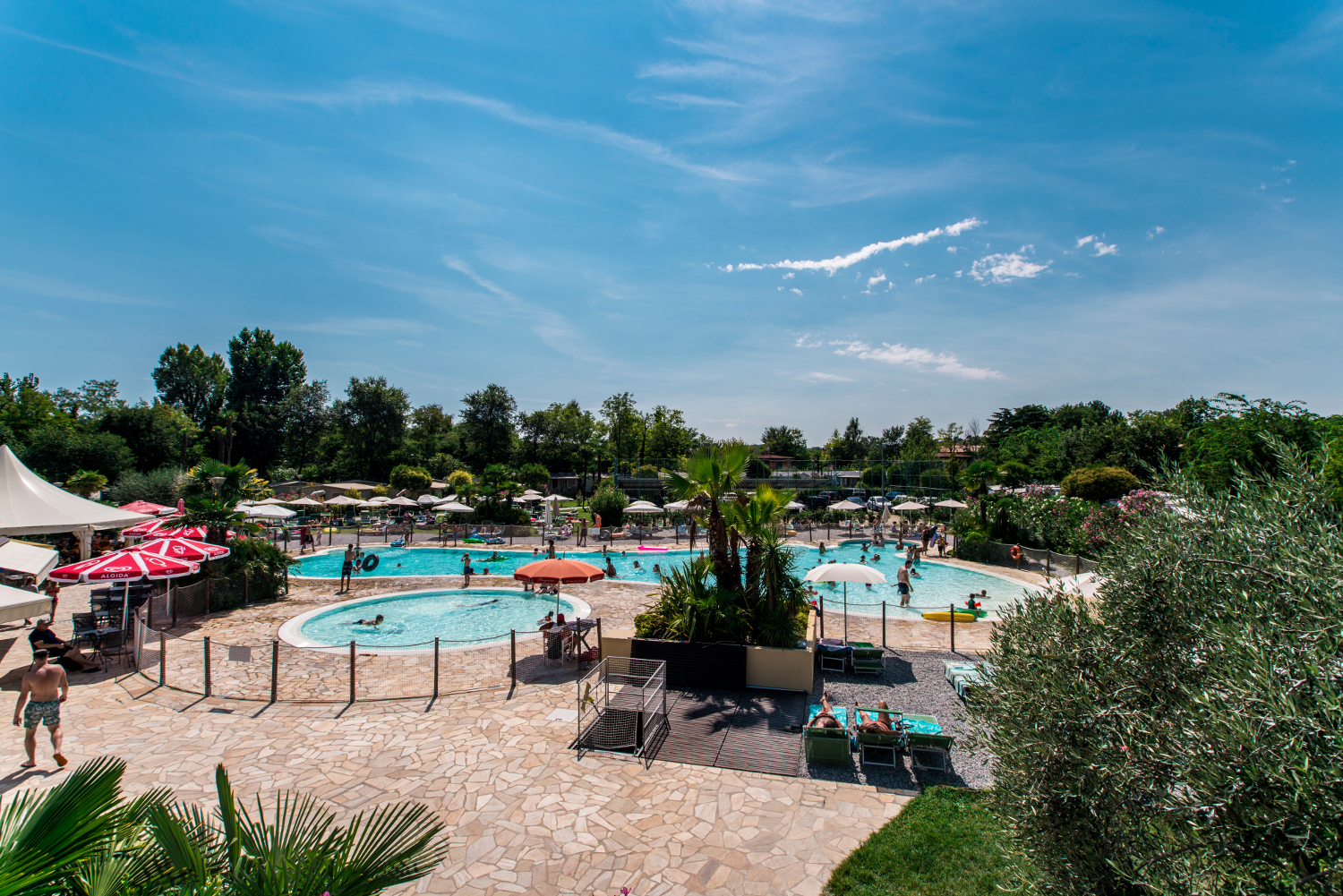 The facilities of the four-star campsite on Lake Garda
1. The pitches
For those wishing to spend an adventure holiday,
pitches for tents and campers
are ideal. We have many types, to meet all the needs of our tourists. From the COMFORT with 80sqm surface to the SUPERIOR with private cabin with toilet, from the NATURAL GREEN with 70/90 sqm surface in the quietest area of the campsite to the NATURAL GREEN XL up to 180sqm of surface, with the possibility of booking a private bathroom cabin.
2. The mobile homes
And here too, the choice is really wide and varied! We have 7 proposals for
mobile homes
, one more beautiful than the other, can accommodate 5-6 persons and have large sizes to give comfort and well-being even to large families. Equipped with all the necessary services, an equipped veranda to enjoy the garden and free wifi internet connection, most of the mobile homes on our campsite also have air conditioning on request.
3. The apartments
Yes, in our 4-star campsite on Lake Garda you can also find very, very special
holiday apartments
. In fact, these are 3 apartments (2 three-room and 1 four-room) built following the PassivHaus protocol, in green building, super ecological and technological. These three proposals were also included in the Glamping guide, a truly exceptional result.
To complete the proposal there is Fior di Sole, a single villa on the ground floor, with 2 bathrooms and 2 bedrooms, which can accommodate up to 6 persons.
4-star campsite on Lake Garda: services from A to Z
Our structure not only offers a wide range of
accommodation
to choose from and which will allow you to design a tailor-made holiday, complete with all the comforts you need, but also guarantees each guest access to the many services available in the 4-star campsite on Lake Garda! Let's see them together to discover all the fun and comfort offered by the Baia Verde camping.
 Restaurant, Pizzeria and Bar
In the top 3 of the most popular discussions during the holiday we certainly find what to eat for lunch and dinner. To solve the problem and try to make all family members agree, our facility houses a restaurant and a pizzeria where our guests can relax and decide without discussion what to eat. We thus offer you a wide variety of dishes and pizzas that will satisfy even the most undecided. So you can stay on the beach longer, enjoying the last rays of the day, without the thought of having to cook! Inside the campsite you will also find a bar open for breakfasts, snacks and aperitifs, so you don't miss anything!
Cooking enthusiasts need not fear because they will be able to delight in the preparation of their favorite dishes thanks to the presence of a Minimarket also located within our 4-star campsite on Lake Garda. You can find national and international, fresh and frozen products to indulge yourself in the kitchen without fear of running out of ingredients. In addition, the shop is stocked with camping items, in case you need to change or add equipment to your pitch.
Swimming pools, multipurpose sportfield and playground for children
We arrive at the entertainment part that sees activities and areas dedicated to fun for both children and adults. The campsite has 3 swimming pools:

- 370 sq m pool and a maximum depth of 138 cm with hydromassage and geyser
- children's pool with a maximum depth of 68 cm and central geysers
- roof-solarium swimming pool with eight hydromassage stations and psychedelic lighting

Then we find a multipurpose sportfield in natural sand for lovers of football and beach volleyball alongside a green area equipped with 2 table football, 2 ping-pong tables and a stage for entertainment and shows.
For the little ones there is a grassy playground complete with swings and other games, perfect for socializing with other children.
Finally, we find the TV room and the games room for lovers of virtual and video games.
In order to ensure comfort for all guests, the structure is equipped with two large newly built sanitary facilities, with heated flooring for the colder periods like this one. But that's not all since there is now also the possibility to book one of the 3 private bathrooms complete with toilet, sink and showers, for extra privacy even if you are staying in the pitches.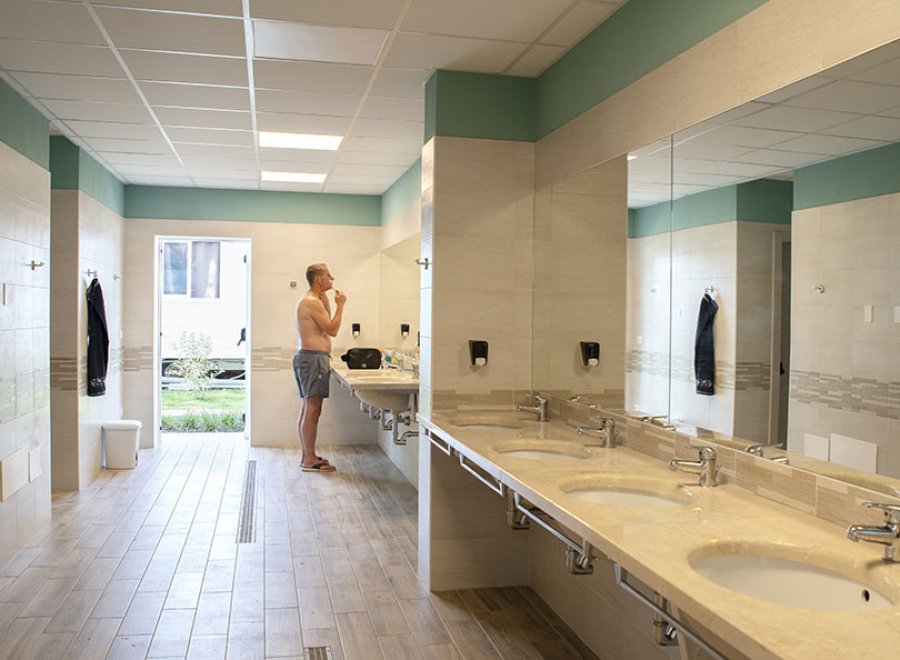 Book your holiday!
Just like last year, the Baia Verde campsite on Lake Garda has decided to postpone the end of the tourist season until November 6, 2021. This means that we will be officially open until that date, allowing all of you to discover here the wonderful autumn on Lake Garda. Well yes, nature has taken over its spaces again and is showing off truly suggestive colors and beautiful shades, a paradise for your eyes.
Who do we recommend a camping holiday on Lake Garda in autumn? To people who do not like traffic and crowds, to those who prefer tranquility, quiet and peace, everywhere. Also for those who suffer from the scorching heat and instead find themselves better in milder temperatures, such as those of autumn here on the lake, ideal for hiking and excursions without sweating. Perfect period also for those traveling with their dog, with large bathing beaches and narrow streets and paths to run without any thought.
We come to the offers of this moment
. Camping Baia Verde offers 1 night free stay for stays of at least 7 nights, and also considering the much lower rates then the prices for the high season, you can spend a long autumn holiday on Lake Garda at exceptional prices. So book now!
And if someone does not know what to give for Christmas (even if we are well ahead), well this is certainly a breathtaking idea: a spring or summer stay at Baia Verde for the next season, a four-star camping on Lake Garda, that will not disappoint anyone.