Glamping on Lake Garda: a holiday between nature and luxury
camping / news / territory
The "greatness" of a camping is measured by how much it can meet the needs of tourists who change from year to year. In fact, each season brings with it new things, new needs, special requests. At Baia Verde we always try to keep up with the times, or rather to push ourselves a little further, to offer our guests unique and innovative holiday experiences.
The trend of last year was the search for green structures and green holidays, for this and the next year is taking hold more and more the concept of glamping. But what does glamping mean? And what differences are there with a traditional camping? Let's see together how to answer all your perplexities, also because Baia Verde has become a wonderful glamping on Lake Garda.

Glamping on Lake Garda: what is it?

Glamping (from glamor and camping) means a
new mode of accommodation for holidays halfway between luxury and green
. We could define it as an eco-sustainable luxury, so great importance to nature and territory but without giving up the comforts and excellent services.

A camping generally provides you with pitches where it is possible to assemble tents and structures belonging to the tourist upon arrival. Generally the cost is quite low and allows you to spend a long period of holidays, with even possibility to travel to different places. It is no coincidence that this is still the preferred accommodation method for young people.

Glamping, on the other hand, provides the structures already set up, generally very special tents, innovative and design mobile homes, eco-friendly apartments and other solutions of this kind. Particular attention should be paid to
furnishings, which must be well studied, to the latest fashion, functional and particular
. The same applies to the services, therefore high expectations for services, for heating, for sheets and fabrics in general.

Glamping is loved by tourists who want to
experience nature, yes, but ... with great class and style
! In this case, the price must not be low but must adapt to the type of proposal.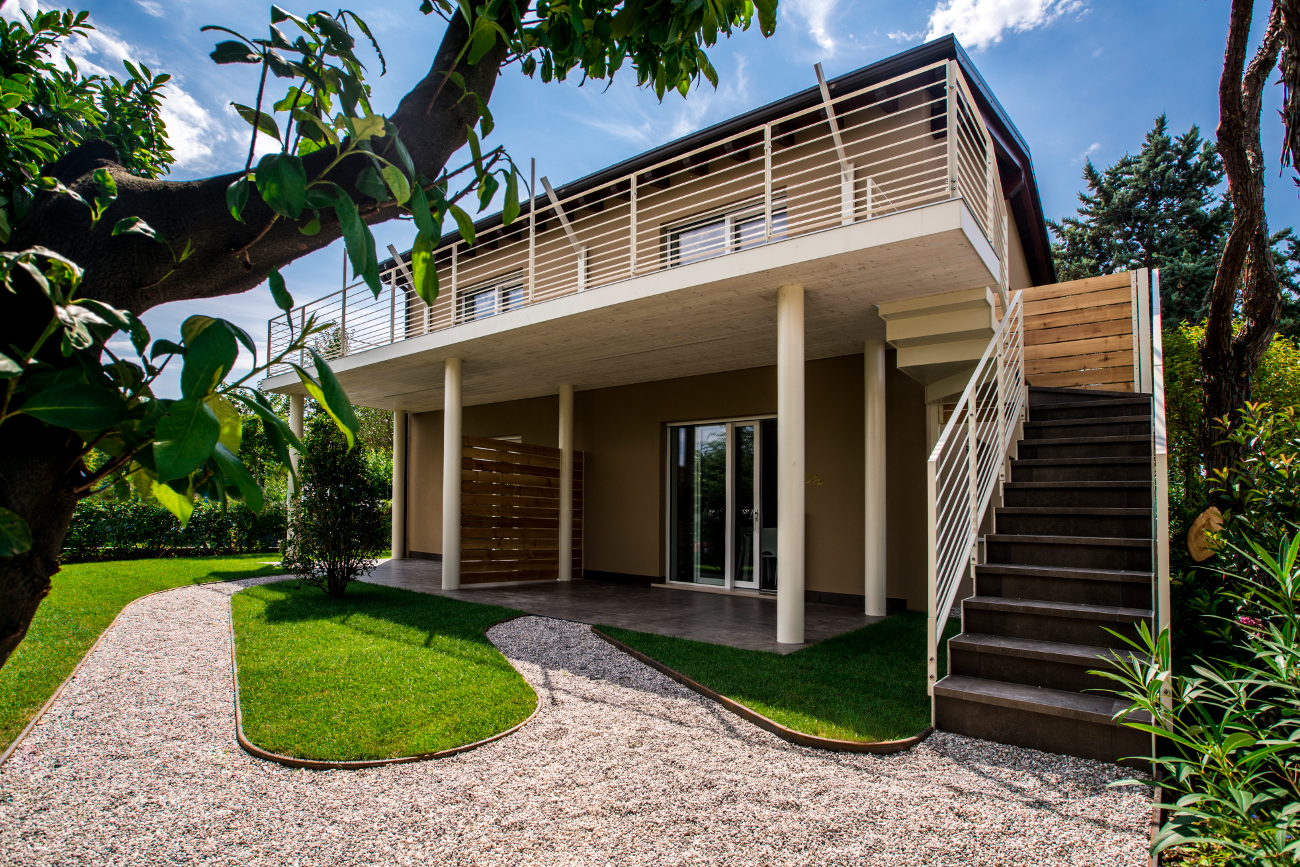 The equalities and differences between camping and glamping on Lake Garda
In our village the two realities coexist, so things that unite and differentiate them, we know them well.
The equalities:
1.    Contact with nature.
In all areas of Baia Verde you will be totally immersed in the typical nature of the place, you can breathe clean air, feel at peace with yourself. The pitches are shaded by beautiful old trees, the garden of the eco-residence delimited by characteristic planting of the territory, the area of the mobile homes enriched with colored flowers and spontaneous vegetation.
2.    Customized services.
We have chosen to offer services of excellence, of the highest quality, for all guests of our village, regardless of accommodation and lodging. At your disposal 3 large animated pools, a playground for children, a pizzeria restaurant, a minimarket, a bar, e-bike rental and much more.
The differences:
1.    The quality and details of the structures.
The tourist facilities that are part of the glamping area are very recent, if not new, with an aesthetic and a latest generation design, from the exterior to the interior furnishings, with attention to every detail and remarkable quality. Also the services within the structure make the difference.
2.    Luxury without ostentation.
Those looking for a glamping on Lake Garda expects a postcard-like location, but without showing off, without losing sight of the territory, the green aspect, the surrounding environment. A decidedly different clientele from those who choose a multi-starred hotel, but equally demanding.
The camping on Lake Garda Baia Verde is ... glamping!

Yes, our camping ... indeed glamping, has been included in the magazine Glamping Guide thanks to the special proposal that distinguishes the tourist season of 2019. We speak in particular of Baia dei Fiori, the Villetta Fior di Sole and the new mobile homes Green Suite.
Baia dei Fiori is an eco-residence built with PassivHaus protocol in bio-building, with great respect for the surrounding area, choosing only materials at km0 and all the devices are designed for energy saving (solar panels, hydraulic systems, heat pumps and so on). It offers guests three very special apartments, two three-rooms and one four-room apartment, with attention to every detail, with luxury and modern furnishings, beautiful bathrooms, exclusive services and a large open space to enjoy nature.
 
Villetta Fior di Sole is a single three-room apartment of 80.7 square meters, a real private villa, immersed in the nature of the camping Baia Verde. It is arranged all on one floor, has an exclusive entrance, a private furnished garden and super-innovative interiors of great value. Accommodates up to 4 + 2 people.
 
Green Suite is our latest proposal of super exclusive mobile homes located in the greenest and quietest part of the village. It is an extremely comfortable, elegant, spacious and comfortable accommodation, ideal for families, finely furnished and equipped with all necessary services. Every detail has been carefully studied, including the choice of dishware and fabrics of the mobile home.
Are you looking for the perfect location for a holiday immersed in nature, but with style, luxury and design? You are here in the right place, please contact us to check availability and for any other questions.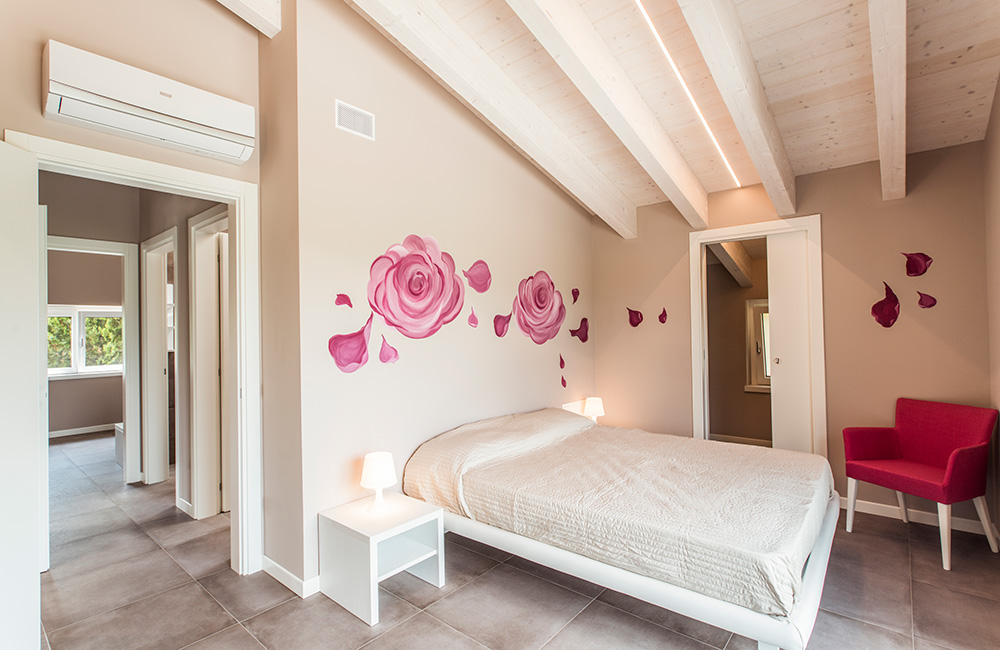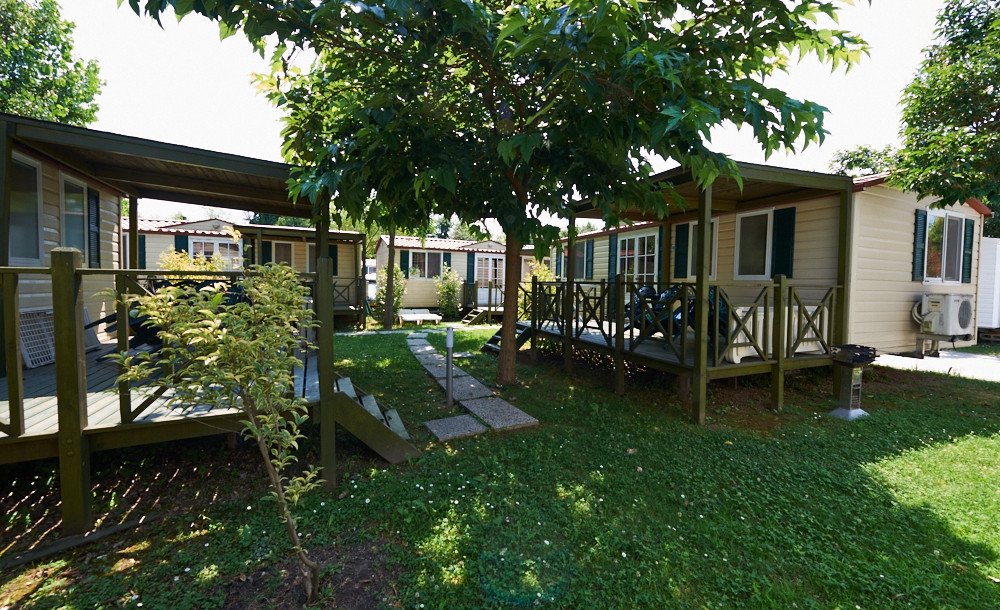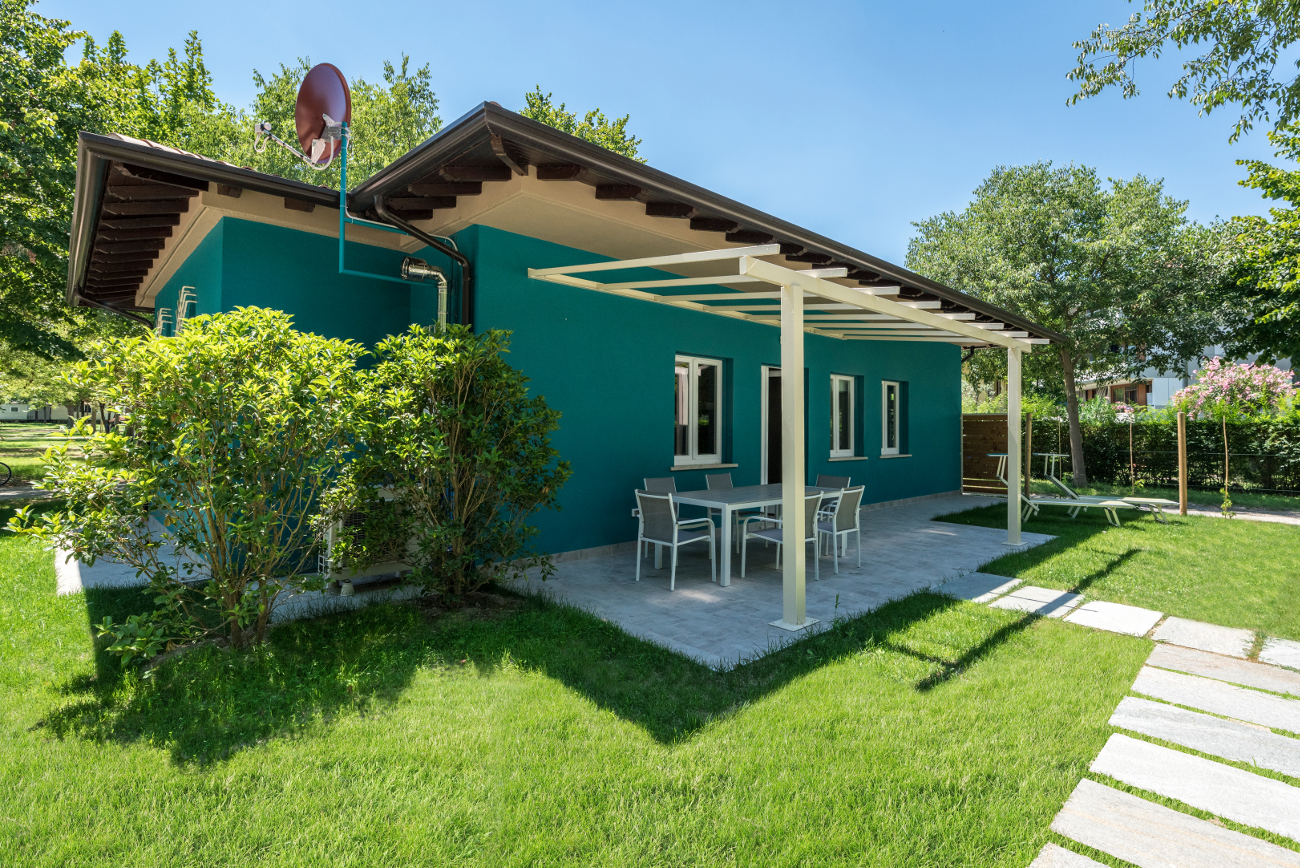 The green features of our camping - ops glamping - on Lake Garda
In our village we have installed the latest generation solar panels for the production of domestic hot water and hot water for our special swimming pool located on the roof of the central body of the campsite, the most romantic and secluded one, with 8 hydro-massage stations and psychedelic lighting.
There are also photovoltaic panels for the production of electricity useful for the camping, making 100% energy that comes from our very hot sun throughout the season.
We offer differentiated waste collection throughout the structure, to support the recycling of all possible materials and make every visitor aware of respect for the environment.
The last characteristic of our glamping Baia Verde on Lake Garda that makes it truly green is its natural appearance, without paved roads, ideal for favoring the absorption of rainwater, enriched with typical fragrant and aesthetically fabulous plantations of the territory.
Immerse yourself in this corner of earthly paradise, it's really worth it.
To learn more about "
green holidays on Lake Garda
", we invite you to read this article full of tips and trivia to organize your special ecological holidays on Lake Garda.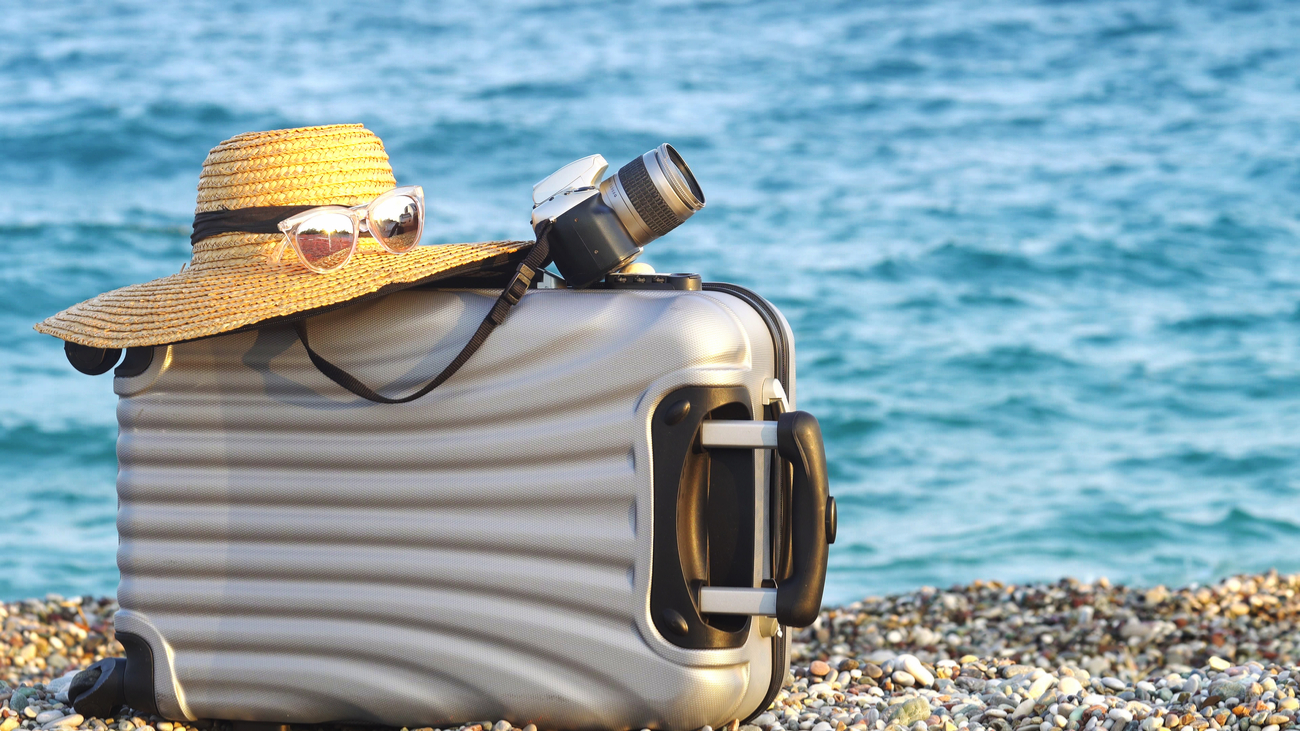 Holidays on Lake Garda 2022: price list and offers of our glamping
We have also thought about an
offer for your next holidays on Lake Garda
in our glamping:
ONE DAY FREE
in the period from 9 April to 2 July and then from 10 September to 6 November 2022, staying in mobile homes or apartments for at least 7 nights, Baia Verde gives you one day, so you will only pay for six days.
If, on the other hand, you choose the pitches of camping Baia Verde, we offer the weekend package (for stays from Friday to Saturday or Sunday evening) and the ACSI 2021 - ANWB 2021 - ADAC 2021 - BEST DEAL 2021 agreements.
Book numerous, you can use the online booking or please contact us.