Why our residence on Lake Garda is special?
territory / offers / residence
Have you ever found a residence on Lake Garda built inside a large tourist village? Generally the Residences are autonomous structures that provide apartments for the holidays, but Baia Dei Fiori is different, it is special for these reasons: it has a privileged position, it is an eco-residence on Lake Garda, it is eco-sustainable and has services of a tourist village.

The location of the Residence on Lake Garda Baia dei Fiori

Where are we located? On the west coast of the largest lake in Italy, in the province of Brescia, in the municipality of Manerba, immersed in the nature of the Valtenesi hills and ... listen listen, directly overlooking the beach. Yes, the village that hosts Baia dei Fiori has direct access to the lake, so you do not have to cross dangerous roads to reach the beach and the lake.
The beach in question is free and swimmable, so you can easily lie in the sun, dive into the fresh water of the lake, have a drink or ask our reception to rent a boat or whatever.
At a few minutes from our Residence you can reach the historic center of Manerba full of nice shops for shopping and with really exciting views of the landscape. During the summer ther are organized parties, festivals, events and many live concerts to enrich the holidays of the many tourists, who come from all over the world, every year here in Manerba.

Baia dei Fiori is an eco-residence on Lake Garda

What does eco residence mean? Baia Dei Fiori is a structure built with the PassivHaus protocol in total respect of the surrounding environment, certified on May 9th, 2017. It is the first Residence on Lake Garda realized in bio-building. This means that in the construction the territory has not been damaged, 0 km materials have been preferred, indigenous plantings have been chosen for the garden and all the precautions have been taken to pollute as little as possible and guarantee energy savings.
We strongly believe that the protection of the territory is fundamental today, not only for us but also for future generations. We have therefore invested resources and time for this project that today gives us so many satisfactions.

Baia Dei Fiori offers an eco-sustainable holiday on Lake Garda

Whoever embraces this philosophy that cares about the protection of the territory can not fail to choose green holidays on Lake Garda in our new Residence Baia dei Fiori.

The building has high thermal, winter and summer insulation; exploits renewable sources for the production of electricity and domestic hot water; reduces CO2 emissions to a minimum; is equipped with hydraulic systems against water waste; prefers biological products of km0.
But a green holiday is not just this. Another important step forward of our camping and our Residence is the possibility to rent electric bicycles for travel during your stay. Leave the car parked, move into this wonderful green-dominated territory with our E-bikes, you will have great satisfaction!
If you want some
ideas for your green holidays on Lake Garda
, read our article.

The services of our residence on Lake Garda

This is another important point that characterizes us: the
services offered
. Baia dei Fiori is located within one of the largest tourist villages in the area and its guests are allowed to take advantage of all the services including the use of the three pools, the multi-purpose sand sports field, the children's playground , the restaurant and bar, the convenience store (open all season) and we have a professional animation team during the hottest months of summer.

Choosing one of the apartments of the residence on Lake Garda Baia dei Fiori means opting for an ecological, relaxing, quiet, extremely comfortable holiday, surrounded by nature but also fun, lively, sporty, never boring.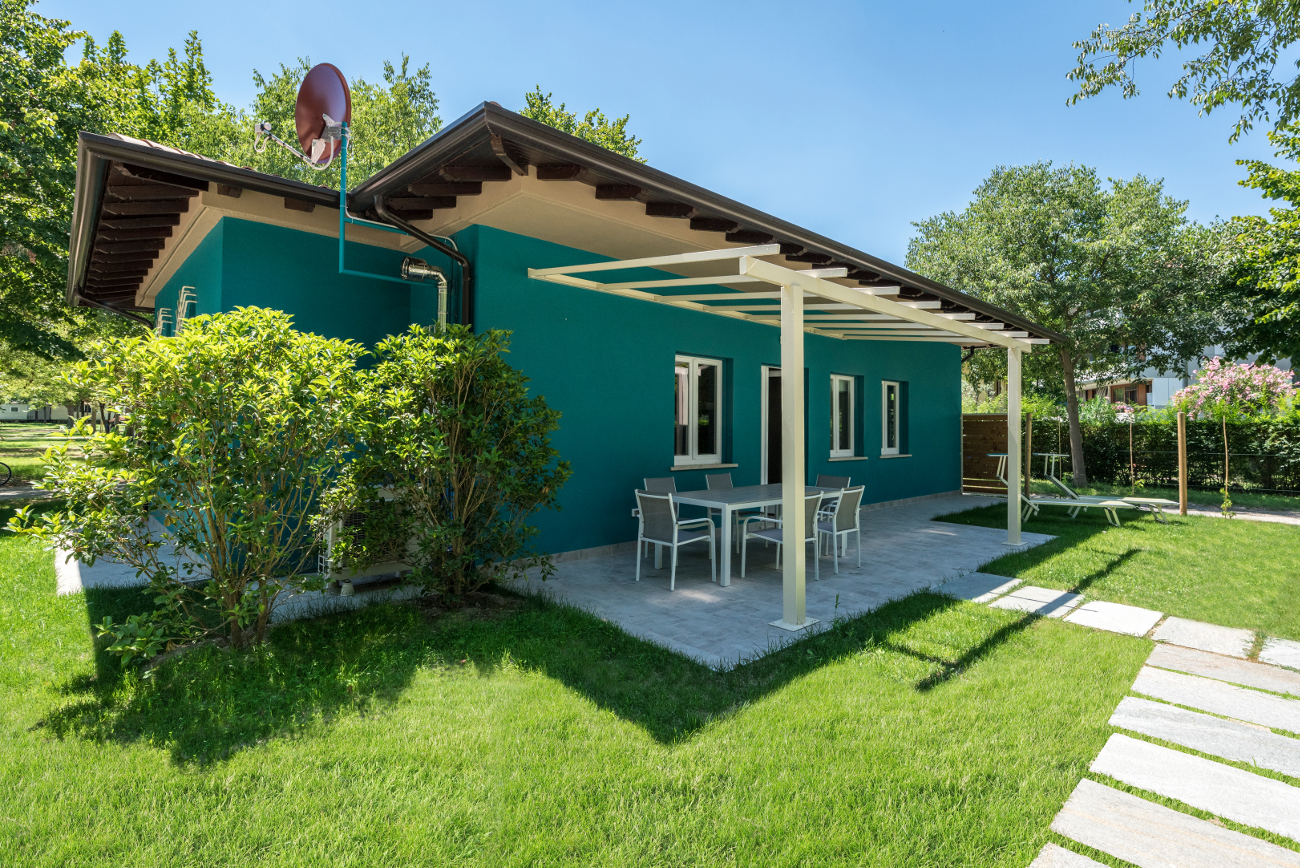 The holiday apartments at your disposal

The Baia dei Fiori Residence on Lake Garda offers you 3 apartments for your holidays, two three-room apartments and a four-room apartment. Let's find out together
- Three-room holiday apartment Iris and three-room holiday apartment Girasole
These two apartments of 57 square meters each are located on the ground floor of Baia dei Fiori. They both have a beautiful portion of exclusive garden (about 15 square meters) to enjoy the surrounding nature 100%, to have lunch outside and sunbathe comfortably lying on the sun loungers. The interior is composed of a double bedroom, a small bedroom with two overlapping beds, a living room with an equipped kitchen, a table with chairs and a sofa bed, a complete bathroom and refined in every detail. And moreover, they are equipped with air conditioning.
Iris and Girasole of our Residence on Lake Garda are the ideal solution for families with two children / teenagers, but can accommodate up to 4 + 2 persons.
- Four-room holiday apartment Rosa
Rosa is located on the first floor of the eco-residence Baia dei Fiori. It has an area of 115 square meters and can accommodate up to 8 persons, so it is the ideal location for very large families or groups of friends.
In fact, it has 3 bedrooms, two doubles and one single, a large living room with an equipped kitchenette, table with chairs and a sofa bed, and two complete and modern bathrooms. To enrich the proposal is the private 30sqm terrace, with table and chairs for outdoor dining and sun loungers.
Depending on your needs you can choose which apartment to book, do it in advance because we have already received so many requests! We invite you to browse the photographs of our residence Baia Dei Fiori.